Models waiting to dress at Rodarte
Jourdan backstage beauty at Balmain
Indya Moore in Paris
Louis Vuitton Cruise 2020
Lily Nova at Rodarte
Kaia at Marc Jacobs
Tom Ford taking notes at rehearsal
Devon Aioki at Jeremy Scott
Beauty at Tom Ford
Proenza Schouler FW19 Runway Gif
Louis Vuitton Cruise 2020
Hungry at Opening Ceremony
Aquaria backstage beauty at The Blonds
Virgil Abloh, Alton Mason, Naomi Campbell & Lukas Abbat at the CFDA Americans in Paris Cocktail party
Anok backstage beauty at Tom Ford
Cara at Prada
Bella & Gigi at the CFDA Americans in Paris Cocktail party
Beauty at Opening Ceremony
Louis Vuitton Cruise 2020
Mariana at Marc Jacobs
Runway from above at Mary Katrantzou
Georgia May Jagger at Richard Quinn
Binx backstage beauty at Sacai
Emily Driver at Prada FW19
First looks at Brandon Maxwell
Backstage at Eckhaus Latta
Runway at V Files
Sora at Jeremy Scott
Grace Elizabeth backstage beauty at Prabal Gurung FW19
Moschino FW19 Runway Gif
Calvin Klein SS18 Runway
Gigi backstage at Brandon Maxwell
Kiki at Sies Marjan
First looks at Sies Marjan
Mariacarla on the Oscar Dela Renta SS18 Runway
Bottega Veneta FW19 Runway
Pat McGrath doing Teddy's makeup
Mica & Carine Roitfeld backstage at Tom Ford
Kiki & Jonas backstage at Coach
Cardi B & Offset
Jussie Smollett & Naomi Campbell
Kylie Jenner
Travis Scott on stage
Travis Scott
Aquaria onstage at LadyLand Festival
Hailey Bieber at the CFDA Americans in Paris Cocktail party
Kendall at the Golf Wang show at Made LA
CL onstage at Wangfest
Lady Gaga at Marc Jacobs
Kris & Kim
Dita Von Teese & Adriana Lima backstage at Philipp Plein
Violet Chachki at the Mert & Marcus book launch
Paris Hilton backstage at Philipp Plein
Bella Thorne at the Mert & Marcus book launch
Teyna Taylor backstage before performing at the Philipp Plein show
Lil Kim at Public Arts
Pat McGrath putting the finishing touches on Bella at Anna Sui
Anna at the Coach SS18 show
Sabina at Michael Kors
Teddy backstage at Marc Jacobs
Adwoa beauty at Brandon Maxwell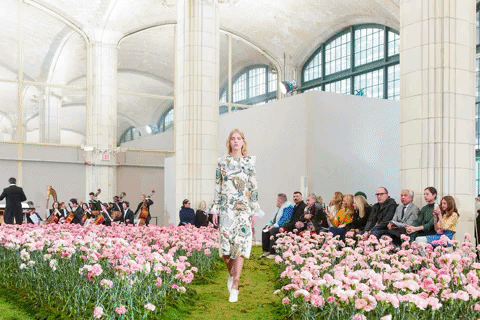 Tory Burch FW18 Runway Gif
Jason Wu FW18 Runway
Bella in Michael Kors FW18
Ashley Graham backstage at Prabal Gurung
Backstage at Jeremy Scott
Jamie Bochert in Marc Jacobs
First looks at Michael Kors
Irinia Shayk backstage beauty at Bottega Venetta
Gigi on the Brandon Maxwell FW18 Runway
Dame Helen Mirren at NYFW
Ezra Miller & his new friend
Taraji P. Henson & Kylie Jenner at Alexander Wang
Kaia Gerber & Cindy Crawford at the Mert & Marcus book launch
Chloe Sevigny at the Proenza Schouler Arizona Fragrance launch party
Kim Petras at Lady Land Festival
Kim Petras at Lady Land Festival
Natasha Lyonne at the Kenzo film premiere
Tommy Dorfman at the ASOS NYC Pride event
Rihanna at her Fenty X Puma NYFW show
Zoe Kravitz performing with her band Lolawolf
Justine Skye at Jeremy Scott
Zosia Mamet at the Monse party
Grace Coddington at Alexander Wang
Troye Sivan & Kim Petras at Opening Ceremony
Amandla Stenberg, Zoe Kravitz & Solange at Alexander Wang
Gus Kenworthy & Sasha Velour at Opening Ceremony
Jack & Lazaro of Proenza Schouler with Emily Blunt after present Kerby Jean-Raymond with the CFDA CVFF award
Emily Ratajkowski
Kelly Osbourne & Polly
Devon Windsor & Jordan Barrett
Sita Abellan & Maria Buccellati at the Moxy Time Square opening
Hari Nef at the Moxy Time Square opening
Coco Rocha at the Moxy Time Square opening
Jazzelle at the Jeremy Scott Afterparty
Ian Issah at the Moxy Time Square opening
Jeremy Scott, Aquaria & Jordan Stawecki at the Jeremy Scott Afterparty
Winnie Harlow at the Jeremy Scott Afterparty
Chance the Rapper onstage at The Meadows
Gracie Hartzel & Lili Sumner at the Chloe Dinner for Natacha Ramsay-Levi
Anna & Pat Cleveland at the CFDA Americans in Paris Cocktail party
Hamish Bowles at the CFDA Vogue CVFF Awards
Vanessa Moody at the Dundas x Bergdorfs Goodman party
Halima at the CFDA Americans in Paris Cocktail party
Linda Fargo at the Dundas X Bergdorfs Goodman party
DVF, Anna Wintor & Steven Kolb at the CFDA Vogue CVFF Awards
Doutzen Kroes at the CFDA Americans in Paris Cocktail party
Jasmine Sanders at the Dundas X Bergdorfs Goodman party
Jourdan Dunn at the Dundas X Bergdorfs Goodman party
Slick Woods at the Dundas X Bergdorfs Goodman party
Karlie Kloss with Jens & Erik at the Frame Denim dinner
Joan Smalls at the Frame Denim dinner
Karen Elson & Derek Blaspberg at the Frame Denim dinner
Hilary Rhoda & Alexandra Agoston at Indochine
Mia Morretti at the Re/Done Levi's ACLU Dinner
The Queer Eye cast at the AT&T Shorty Awards
Pat Cleveland at the Richard Bernstein Starmaker book launch
Christian Cowan & Kim Petras
David Motta, Candy Ken & Patrick Church at Opening Ceremony
Lynn Yaeger at the CFDA Vogue CVFF Awards
Shanina Shaik & Grace Elizabeth in Paris
Dilone & Amiira on the dancefloor
Models waiting to dress at Rodarte
Models waiting for dressing before the Rodarte SS19 show at The Church.
Jourdan backstage beauty at Balmain
Indya Moore in Paris
Louis Vuitton Cruise 2020
Lily Nova at Rodarte
Kaia at Marc Jacobs
Kaia Gerber at the SS19 Marc Jacobs show when they gave the photographers 10 minutes with the models after the runway show had finished.
Tom Ford taking notes at rehearsal
Tom Ford watching rehearsals before to the SS19 show at The Park Avenue Armory.
Devon Aioki at Jeremy Scott
Beauty at Tom Ford
Proenza Schouler FW19 Runway Gif
Louis Vuitton Cruise 2020
Hungry at Opening Ceremony
Aquaria backstage beauty at The Blonds
Virgil Abloh, Alton Mason, Naomi Campbell & Lukas Abbat at the CFDA Americans in Paris Cocktail party
Anok backstage beauty at Tom Ford
Cara at Prada
Bella & Gigi at the CFDA Americans in Paris Cocktail party
Beauty at Opening Ceremony
Louis Vuitton Cruise 2020
Mariana at Marc Jacobs
Runway from above at Mary Katrantzou
Georgia May Jagger at Richard Quinn
Binx backstage beauty at Sacai
Emily Driver at Prada FW19
First looks at Brandon Maxwell
Backstage at Eckhaus Latta
Runway at V Files
Sora at Jeremy Scott
Grace Elizabeth backstage beauty at Prabal Gurung FW19
Moschino FW19 Runway Gif
Calvin Klein SS18 Runway
Gigi backstage at Brandon Maxwell
Kiki at Sies Marjan
First looks at Sies Marjan
Mariacarla on the Oscar Dela Renta SS18 Runway
Bottega Veneta FW19 Runway
Each of the looks from the Bottega Veneta FW19 runway show. This was the first collection from new Creative Director, Daniel Lee.
Pat McGrath doing Teddy's makeup
Mica & Carine Roitfeld backstage at Tom Ford
Kiki & Jonas backstage at Coach
Cardi B & Offset
Jussie Smollett & Naomi Campbell
Kylie Jenner
Front row at the Jeremy Scott show.
Travis Scott on stage
Travis Scott
Aquaria onstage at LadyLand Festival
Hailey Bieber at the CFDA Americans in Paris Cocktail party
Kendall at the Golf Wang show at Made LA
CL onstage at Wangfest
Lady Gaga at Marc Jacobs
Kris & Kim
Dita Von Teese & Adriana Lima backstage at Philipp Plein
Violet Chachki at the Mert & Marcus book launch
Paris Hilton backstage at Philipp Plein
Bella Thorne at the Mert & Marcus book launch
Teyna Taylor backstage before performing at the Philipp Plein show
Lil Kim at Public Arts
Pat McGrath putting the finishing touches on Bella at Anna Sui
Anna at the Coach SS18 show
Sabina at Michael Kors
Teddy backstage at Marc Jacobs
Adwoa beauty at Brandon Maxwell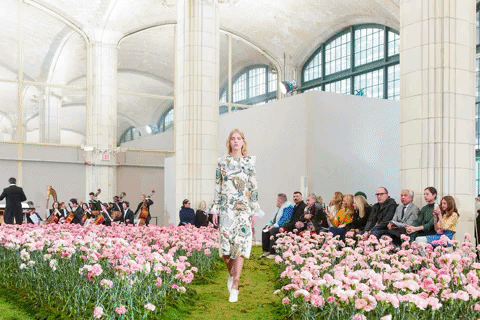 Tory Burch FW18 Runway Gif
Jason Wu FW18 Runway
Bella in Michael Kors FW18
Ashley Graham backstage at Prabal Gurung
Backstage at Jeremy Scott
Jamie Bochert in Marc Jacobs
First looks at Michael Kors
Irinia Shayk backstage beauty at Bottega Venetta
Gigi on the Brandon Maxwell FW18 Runway
Dame Helen Mirren at NYFW
Ezra Miller & his new friend
Taraji P. Henson & Kylie Jenner at Alexander Wang
Kaia Gerber & Cindy Crawford at the Mert & Marcus book launch
Chloe Sevigny at the Proenza Schouler Arizona Fragrance launch party
Kim Petras at Lady Land Festival
Kim Petras at Lady Land Festival
Natasha Lyonne at the Kenzo film premiere
Tommy Dorfman at the ASOS NYC Pride event
Rihanna at her Fenty X Puma NYFW show
Zoe Kravitz performing with her band Lolawolf
Justine Skye at Jeremy Scott
Zosia Mamet at the Monse party
Grace Coddington at Alexander Wang
Troye Sivan & Kim Petras at Opening Ceremony
Amandla Stenberg, Zoe Kravitz & Solange at Alexander Wang
Gus Kenworthy & Sasha Velour at Opening Ceremony
Jack & Lazaro of Proenza Schouler with Emily Blunt after present Kerby Jean-Raymond with the CFDA CVFF award
Emily Ratajkowski
Kelly Osbourne & Polly
Devon Windsor & Jordan Barrett
Sita Abellan & Maria Buccellati at the Moxy Time Square opening
Hari Nef at the Moxy Time Square opening
Coco Rocha at the Moxy Time Square opening
Jazzelle at the Jeremy Scott Afterparty
Ian Issah at the Moxy Time Square opening
Jeremy Scott, Aquaria & Jordan Stawecki at the Jeremy Scott Afterparty
Winnie Harlow at the Jeremy Scott Afterparty
Chance the Rapper onstage at The Meadows
Gracie Hartzel & Lili Sumner at the Chloe Dinner for Natacha Ramsay-Levi
Anna & Pat Cleveland at the CFDA Americans in Paris Cocktail party
Hamish Bowles at the CFDA Vogue CVFF Awards
Vanessa Moody at the Dundas x Bergdorfs Goodman party
Halima at the CFDA Americans in Paris Cocktail party
Linda Fargo at the Dundas X Bergdorfs Goodman party
DVF, Anna Wintor & Steven Kolb at the CFDA Vogue CVFF Awards
Doutzen Kroes at the CFDA Americans in Paris Cocktail party
Jasmine Sanders at the Dundas X Bergdorfs Goodman party
Jourdan Dunn at the Dundas X Bergdorfs Goodman party
Slick Woods at the Dundas X Bergdorfs Goodman party
Karlie Kloss with Jens & Erik at the Frame Denim dinner
Joan Smalls at the Frame Denim dinner
Karen Elson & Derek Blaspberg at the Frame Denim dinner
Hilary Rhoda & Alexandra Agoston at Indochine
Mia Morretti at the Re/Done Levi's ACLU Dinner
The Queer Eye cast at the AT&T Shorty Awards
Pat Cleveland at the Richard Bernstein Starmaker book launch
Christian Cowan & Kim Petras
David Motta, Candy Ken & Patrick Church at Opening Ceremony
Lynn Yaeger at the CFDA Vogue CVFF Awards
Shanina Shaik & Grace Elizabeth in Paris
Dilone & Amiira on the dancefloor
1
2
3
4
5
6
7
8
9
10
11
12
13
14
15
16
17
18
19
20
21
22
23
24
25
26
27
28
29
30
31
32
33
34
35
36
37
38
39
40
41
42
43
44
45
46
47
48
49
50
51
52
53
54
55
56
57
58
59
60
61
62
63
64
65
66
67
68
69
70
71
72
73
74
75
76
77
78
79
80
81
82
83
84
85
86
87
88
89
90
91
92
93
94
95
96
97
98
99
100
101
102
103
104
105
106
107
108
109
110
111
112
113
114
115
116
117
118
119
120
121
122
123
124
125
126
127
128
·
·
·
·
·
·
·
·
·
·
·
·
·
·
·
·
·
·
·
·
·
·
·
·
·
·
·
·
·
·
·
·
·
·
·
·
·
·
·
·
·
·
·
·
·
·
·
·
·
·
·
·
·
·
·
·
·
·
·
·
·
·
·
·
·
·
·
·
·
·
·
·
·
·
·
·
·
·
·
·
·
·
·
·
·
·
·
·
·
·
·
·
·
·
·
·
·
·
·
·
·
·
·
·
·
·
·
·
·
·
·
·
·
·
·
·
·
·
·
·
·
·
·
·
·
·
·
·